List of terminals
List of Terminals (menu Outputs - List of Terminals) contains a list of all terminals in the drawing. For each terminal are listed:
wire name
cable name
attached symbol and name of connection point
grid zone of the symbol
Example
For this connection: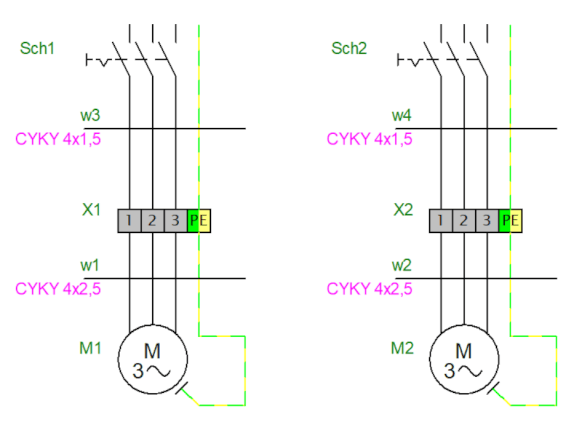 The program will generate this list of terminals: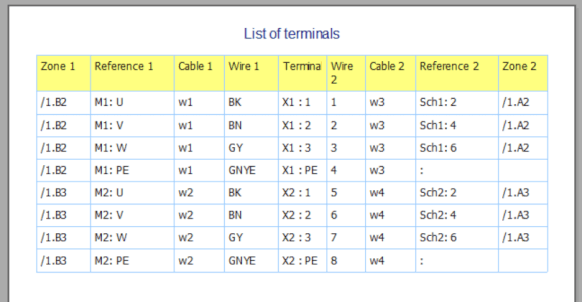 Terminal input is displayed to the left, output to the right of the terminal.
Symbol setting in the library
Symbols that represent the terminals must be set up correctly. You need not carry out this setting, if you installed after 21. 3. 2017, or if you download these already set up symbols.
Setting the function terminal in the symbol library:
Open the symbol in the library
Call up the menu command File - Options ... (or press key F12)
Select Symbol
For the field Function select the value Terminal
Setting symbols in the drawing
1) To set the terminal connection points:
In the drawing, right-click the terminal and select Connection points
For each connection point, enter the name and direction (whether in it involves input (IN) or output (OUT)). You can change the direction by double-clicking the box. Terminal names should always appear in pairs (one input and one output), as in the picture:
Confirm with the OK key. Right-click the terminal and select Save connection points and attributes. This saves the changes to the library.
2) To set the terminal function:
Select the terminal in the drawing
In the Properties pane, select Function: Terminal
The setting will take effect for all terminals of the same type in the drawing.